Make Manager Rating/Comments Visible to the Employees
A review starts after a performance cycle is created and the template is shared with the employees. It is the HR managers/admins decision to make the manager review visible to the employees. A review from manager can be shared with employees in different ways.
To make manager's feedback visible to the employees, enable "Make Manager Review Visible to Employee immediately upon Submission" under cycle settings.
If the manager's review visibility to employees is not enabled, HR managers or both HR and managers can decide the visibility criteria for reviewers.
Note: If Skip-Level Manager approval is part of the review process, the Employees are allowed to see the Manager review only when the Skip-Level Manager approves the manager review.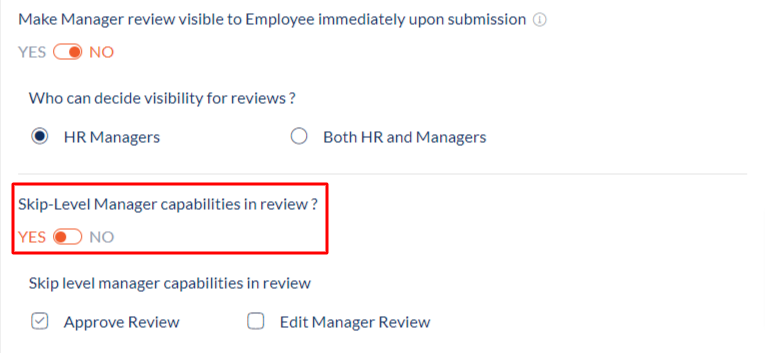 The HR managers/admins can make the manager review visible to the employees by navigating to: Admin > Performance >Manage > Actions

You can change manager review visibility on Review Form.
To change employees visibility in manage reviews, you can edit the Visibility Setting (hover over the pencil icon) or click the overflow menu.