Navigation: Admin > 360 Feedback > Recent Cycles
1. Select a cycle from the list to open it. Click View All to access all the saved cycles.

2. Under Templates, you can manage the template-related activities of the cycle as mentioned:

Create New Template
Templates have a set of questions to focus on specific feedback areas for an employee. Using a template makes the 360 feedback process standardized as each respondent receives the same set of questions. You can always add your own questions and edit the existing templates to create customized templates.
1. Click Create New Template.

2. Enter a Template Name and click Next.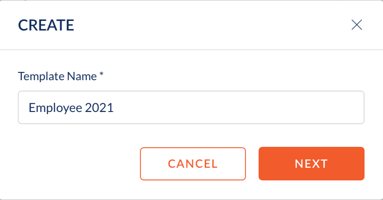 3. On the Template Details window, Enable/Disable the Job Competency section by using the toggle button under Enable Competency Section Linked to Job Titles. When the Job Competency section is enabled, it will auto-populate the competencies mapped to the job titles of each employee and add them to the review form.
4. Click Add Section to create a new section in the template.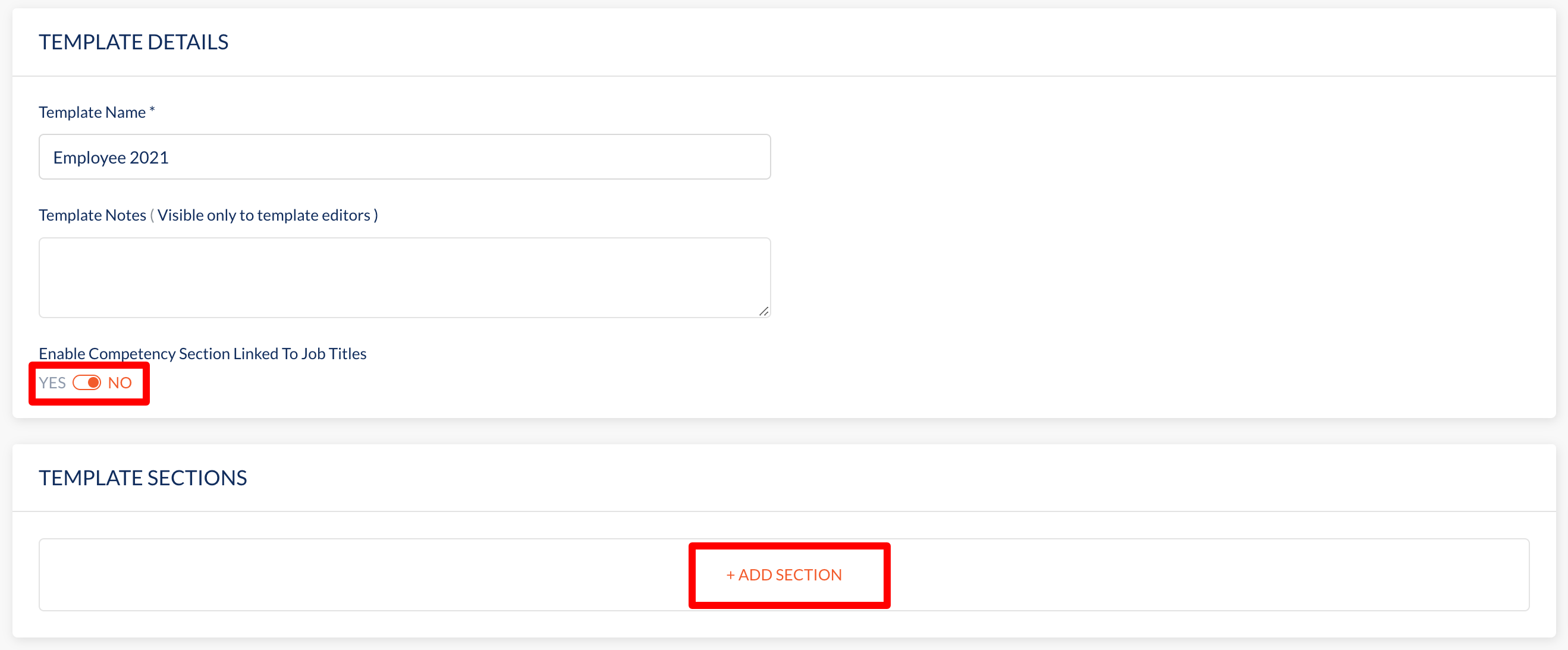 5. Enter the Section Name and Description for the section, select the Rating and Comment options under Response Preference. Select whether it is mandatory for the respondents to rate/comment for submitting the form. Click Add sub-section to add more sections and enter more questions to be reviewed. Click Save before proceeding to the next question.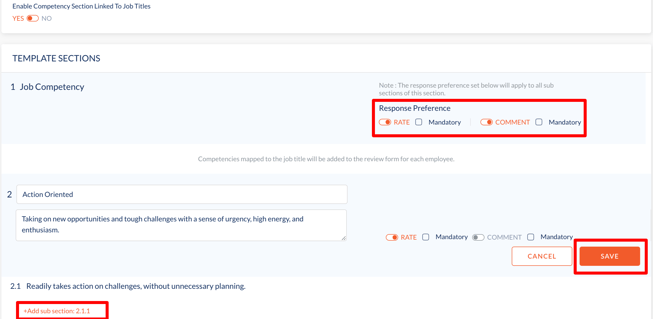 6. Once done, click Save on the top right corner to save the template changes.
Note:
You can add any number of sections in a template, but ideally, the whole review form should not take more than 10-15 mins on average to respond.
You can move on to the next section only after saving the previous section.
The response preference set for a particular section applies to all its sub-sections.
Assign Template
1. Under the Templates section, click Select from Template Library to assign an existing template to the employees.

2. Choose a template from the library and click Select.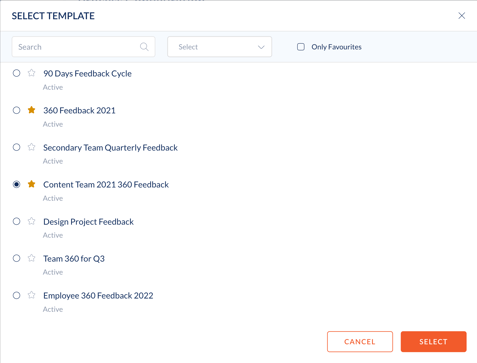 3. All the selected templates get listed in the left panel. When you click on a template in the left panel, the assigned employees will appear on the screen. Click Assign next to a template to assign it to the reviewees.

4. Select the reviewees from the list and click Assign to complete assigning template. Repeat the process for all the templates.

4. Click on the overflow menu next to a selected template for performing more template actions such as Preview, Edit, and Remove Template.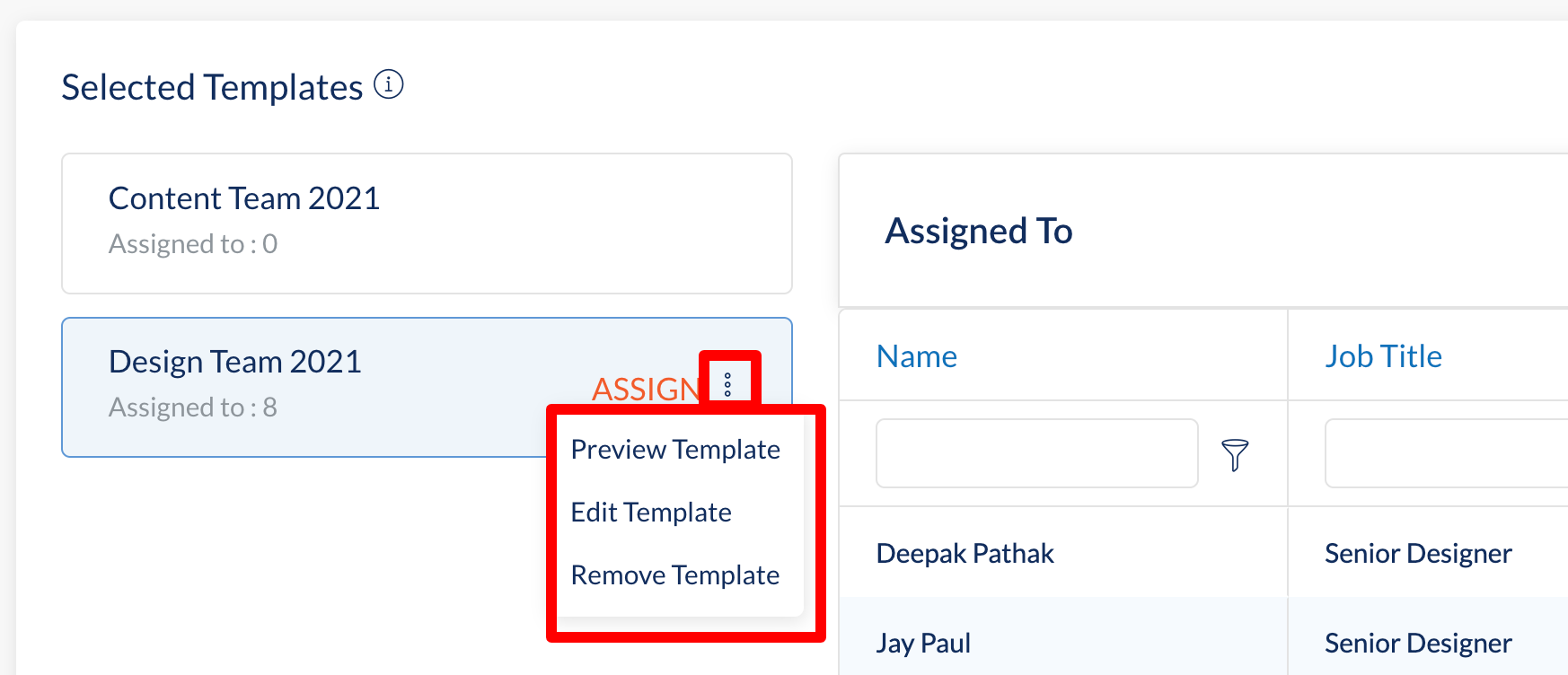 Unassign Template
1. Select a template that you want to unassign from the left panel. Click Manage and select Remove all assignments to unassign the template for all the employees. Click on Select & Unassign to unassign the template for selected employees.

2. Mark the employees as selected and click Unassign.

3. Click Unassign to confirm the changes.