Import OpenSesame Courses to Engagedly
Once the courses are imported into Engagedly, Admins and Learning Managers can assign them to the employees as needed and track their progress and completion within the Engagedly learning management system. Employees can also access the courses from the Engagedly Library if the courses are pushed to the library.
To Import OpenSesame courses to Engagedly:
Step 1: Log in to your Engagedly account as an administrator.
Step 2: Navigate to Admin > Learning > Courses.
Step 3: Select OpenSesame from the "Import" drop-down.

Step 4: Click the drop-down menu and select Not Imported to view all the non-imported courses. You can also search for the courses from the search box.

Step 5: Select the courses you want to import and click IMPORT.
Step 6: You can import individual courses by clicking IMPORT next to the course.

Step 7: A confirmation window opens where you can review the added course(s) and remove the added courses.
Step 8: Click IMPORT to complete the process.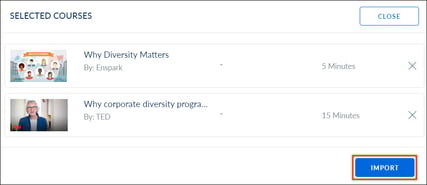 After importing the courses, admins and learning managers can assign the OpenSesame courses.