Summarize 360 Feedback Comments using Marissa
Engagedly's 360 Feedback allows employees to receive feedback from multiple sources, including managers, peers, and direct reports, on various aspects of their performance. The feedback is usually provided anonymously and is intended to help the recipient identify their strengths and areas for improvement.
Summarizing 360 feedback comments using Marissa provides a concise and clear overview of an employee's feedback to managers and admins. Marissa can analyze and extract insights from the feedback comments, which can save time compared to reading and analyzing each comment individually. The summary response can help managers and admins quickly identify key issues and take action to address them.
To summarize responses using Marissa:
Step 1: Navigate to Admin > 360 Feedback and select any cycle under "Recent Cycles".


Step 2: Go to the Dashboard section and click the View Form Icon to view the 360 Feedback report of an employee.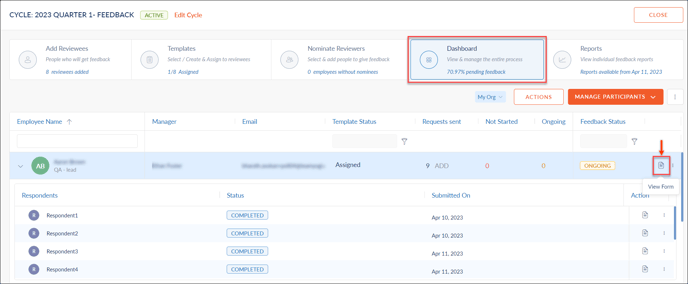 Step 3: On the 360 Feedback report, you can summarize the overall comments and comments of any section or sub-section. Click

at the top of the report to summarize the overall comments OR click

next to any section/sub-section to summarize the specific section/sub-section comments.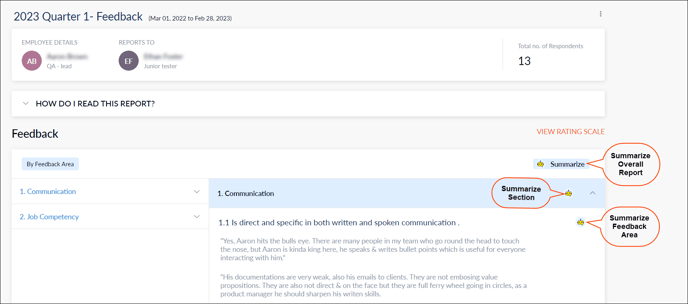 Step 4: Marissa will analyze the feedback comments and generate a summary. Review the summary to gain an overview of the insights from the feedback comments. Click SAVE if you are satisfied with the summarized response, OR click REGENERATE to generate the summary again.
Note: Once the summary is saved, other users, such as an employee or manager, can only view the generated summary, and they cannot summarize again.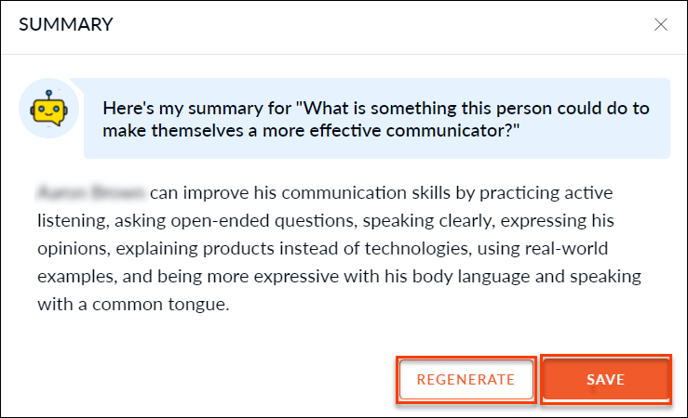 You can view the summarized response by clicking

again.
Note: If any new respondent provides feedback after summarizing the responses, Marissa will automatically analyze and summarize responses again based on the new feedback comments.