Praise Using Marissa AI
Marissa is an Artificial Intelligence (AI) assistant that generates personalized praise messages using the recognition reason that highlights the employee's strengths, achievements, and positive impact on the company. It helps boost employee morale, motivation, and job satisfaction.
To Praise using Marissa:
Step 1: Navigate to Feedback > Dashboard > Praise.
Step 2: Click the Overflow Menu

Icon and select Enable Marissa from the "Public Praise" window.

Step 3: Select the user to praise.
Step 4: Type your reason for recognition and select the praise style.
Step 5: Click Generate to generate the praise message.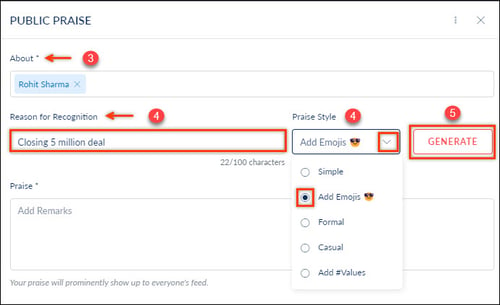 Step 6: You can also edit the praise remarks generated by Marissa.
Step 7: Enter the desired tag(s) to your praise post.
Step 8: Select an image for your praise post from the Picture Library or upload any document from the "My Computer" section.
Step 9: Click Post to post your praise.