Generate an API Token in Atlassian ( Jira and Confluence)
An API token in Atlassian is a unique identifier used to authenticate access to the Atlassian API. The API token in Atlassian is a secure and convenient way to authenticate access to Atlassian APIs without sharing your password.
Employees can create individual API tokens in Atlassian, which are used to connect Jira to Engagedly.
To generate an API token:
Step 1: Navigate to Profile > Manage Account.

Step 2: Navigate to "Security" and click Create and manage API tokens.

Step 3: Click Create API token.

Step 4: Type the label and click Create.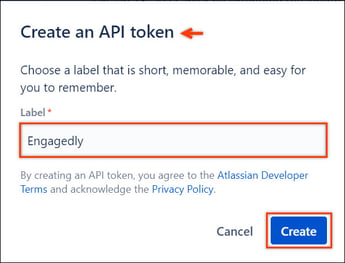 Step 5: Click Copy to copy the API token.