Submit Survey responses
On the start date of the Survey, the employees' receive notifications to submit their responses before the due date. You receive notifications through pending actions on the home page, in-app, and email.
You can respond to the Survey questions in the pending actions, social posts, and email, where you receive notifications.
You can also respond within the module.
Navigate to Surveys.
You can view the SURVEYS ASSIGNED TO ME, which includes the PENDING, SUBMITTED, and MISSED Surveys.
You can filter the Surveys based on name, status, start, and end dates.
Click the Filter Icon at the top right to filter the Survey as required.
On the PENDING Survey, click RESPOND to submit your responses.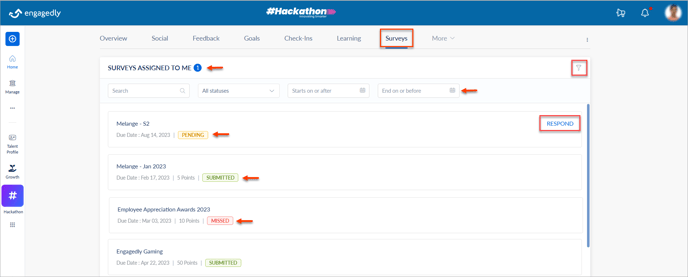 Note: You cannot edit the Survey after submitting it.
You can view your responses for the past Surveys.
Click the Survey to which you have submitted your responses.
You cannot submit the responses for the MISSED Surveys. After the end date, the Survey closes automatically.