Create an IDP for Your Team Member
An Individual Development Plan (IDP) is a personalized, structured, and action-oriented plan that helps employees to identify their professional plans, assess their current skills and competencies, and outline a roadmap for their career development.
Creating an IDP is a very beneficial process for personal and professional development. The purpose of creating an IDP is to help individuals proactively involve in their career development and work toward their personal and professional aspirations. IDP is used as a tool for employee development and talent management.
To create IDP for your team member:
Step 1: Navigate to Growth > My Team.
Step 2: By default, you can create IDP for your direct reports, you can also create IDP for your secondary and entire team members. Click the Filter

Icon and select My Secondary Team or My Entire Team to create IDP for your secondary team or entire team members.


Step 3: Select the team member under "My Team" and click Create IDP.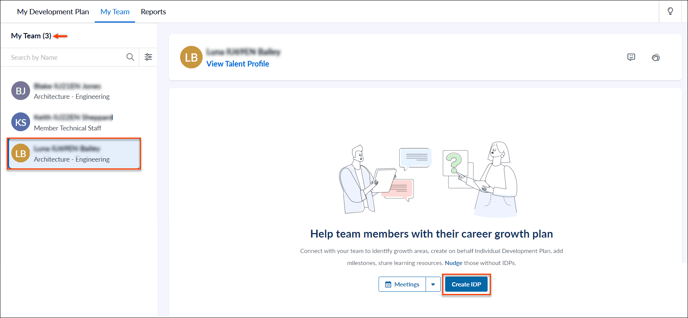 Step 4: Type your IDP title, and IDP description if required.
Step 5: Set the IDP Start date and End date.
Step 6: Select Skills and Competencies for the IDP.
Step 7: Click Save to create the IDP.