Team Pulse is a powerful listening tool that uses the power of questions to unlock valuable insights from employees for managers and leaders. Learn more in Introduction to Team Pulse.
Admins can set up Team Pulse for their organization in two steps: Settings and Configuration. Once Team Pulse is launched, employees receive a set of questions every week.
Team Pulse Settings
Navigate to Settings > Team Pulse > Settings.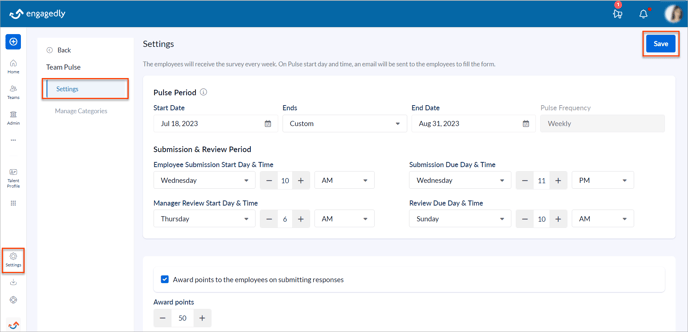 Pulse Period: You can launch Team Pulse for your organization by setting the Start Date and End Date. Set the End Date to stop sending Pulse questions to the employees. By default, Team Pulse never ends.
Submission and Review Period: Set employee's submission and manager's review period by setting the Start Day & Time and Due Day & Time.
Award Points: You can award points to the employees' for every submission, if the Rewards module is enabled for your organization.
Manager Permissions: Allow managers to add questions for their Direct Reports, Secondary Team, and/or Entire Team. You can allow Department/BU admins to add questions for their respective Departments/BUs. Set the maximum number of questions that they can add.
Click Save to save the settings and follow the below steps to configure Team Pulse.
Note: To minimize the time commitment for employees, it is advisable to limit the number of questions to eight per week. This should include questions from both the admin and the manager.
Configuration
Navigate to Team Pulse.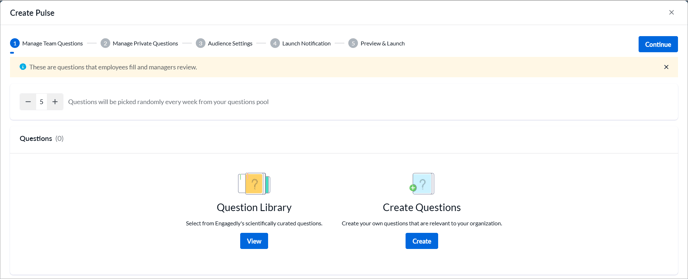 Add Questions: There are two question pools. The questions are sent to the employees based on the maximum limit set for each pool.
Team Questions: Employees' responses are visible to both the admin and manager.
Private Questions: Employees' responses are visible only to the admin.
Add the questions from Engagedly's Question Library or custom create as per your organization's requirement. Learn more in Add questions to Team Pulse.
Note: The questions added to Team Pulse get added to the Org Library for easy access.
2. Audience Settings: You can decide if the Pulse should go to everyone in the organization or custom select among Departments, BU, or Location. You can exclude the CXOs, Site Admins, and Employees without managers.

3. Launch Notification: An email goes to the employees on the set date before they start receiving Pulse questions to inform them about the launch of Team Pulse. The email body is pre-populated and can be modified as per the organization's requirements.
4. Preview & Launch: Preview the questions and the configuration summary before launching Team Pulse for your the organization.
You can modify the questions even after launching Team Pulse. The changes will reflect from the upcoming pulse cycles. Learn more in Manage Questions in Team Pulse.